Rank At Top, Grow your Business
With Our Affordable SEO Packages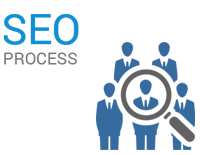 SEO Process
We generally receive the queries from our clients about our SEO Process and the answer is never simple. Search Engine Optimization (SEO) is a highly technical process. The benefit of an SEO process can be witnessed only the proper implementation of the process in systematic and scientific way. That's why we take the time to learn about your goals, products, the competition, and your marketplace.
At Netsterz, our SEO squad follow a properly planned strategy which would then be used to implement various other steps required to attain top rankings and would help your website to maximize its performance in search engines.
Have a look at the process of Search Engine Optimization being followed at Netsterz Infotech.
Analysis Phase :
Website Analysis
Link Popularity Analysis
Website Recommendation Report
Competitor Analysis
On page Optimization :
Keyword Research & Analysis:
Initial site ranking & performance check for targeted keywords
Research most productive keywords for the site
Analysis of keyword sets for search volume & competition and finalizing keyword strategy
Keyword Mapping and Keyword Selection
Site Audit / Site Clinic
Page loading speed check
W3C validation (if feasible)
Broken link / Page error analysis
Site indexing
Browser compatibility check
URL naming conventions
Code to Text Ratio Analysis
Site Analytics/ Tracking Setup
Google Analytics set up & review
Customizing Google analytics – configuring custom reports, filters, goals, advanced segments & annotations.
Google/Bing/Yahoo webmaster setup & review
Robots.txt creation / optimization
XML Sitemap creation (not for dynamic site)
URLList.txt Generation/Optimization
HTML Sitemap Creation
ROR Site Map Creation
Site Redirection Handling
301 Redirect (Canonical Issue Resolving)
404 Error Customization
Meta Data
Title tag Creation/Optimization
Description Tag Creation/Optimization
Content Optimization
Suggesting new page SEO blueprints
Keyword Density Analysis
Internal linking / Anchor text optimization
Alt Text Optimization
Duplicate content issues
Suggestions for content optimization for better keyword density
Article / Press Release /Blog Writing
Off Page Optimization
Off page Optimization :
RSS Feed Submissions
Directory Submissions
Social Bookmarking
Free Blogs
Video Promotion
Inbound Links
Article Marketing
Forum Posting
Press Releases Submission
Classifieds/Local Listings
Blog Commenting
Yahoo Answers
Social Medial Optimization
Twitter Profile
Facebook Profile
Squidoo Lens
Hub pages
MySpace
Wetpaint Site